On the corner couch of a spacious room, a woman wearing a brightly patterned robe sits expectantly. The red hijab that covers her hair is reflected in a glass-fronted cabinet; inside, a framed photograph of her firstborn son takes pride of place between family heirlooms and valuables. A smiling, bearded figure wearing a military jacket, he features in photographs around the room: propped against the wall at her feet, resting on a mantlepiece. A supper of Saudi meze and a lemon cheesecake has been spread out on a large wooden dining table.
Alia Ghanem is Osama bin Laden's mother, and she commands the attention of everyone in the room. On chairs nearby sit two of her surviving sons, Ahmad and Hassan, and her second husband, Mohammed al-Attas, the man who raised all three brothers. Everyone in the family has their own story to tell about the man linked to the rise of global terrorism; but it is Ghanem who holds court today, describing a man who is, to her, still a beloved son who somehow lost his way. "My life was very difficult because he was so far away from me," she says, speaking confidently. "He was a very good kid and he loved me so much." Now in her mid-70s and in variable health, Ghanem points at al-Attas – a lean, fit man dressed, like his two sons, in an immaculately pressed white thobe, a gown worn by men across the Arabian peninsula. "He raised Osama from the age of three. He was a good man, and he was good to Osama."
The family have gathered in a corner of the mansion they now share in Jeddah, the Saudi Arabian city that has been home to the Bin Laden clan for generations. They remain one of the kingdom's wealthiest families: their dynastic construction empire built much of modern Saudi Arabia, and is deeply woven into the country's establishment. The Bin Laden home reflects their fortune and influence, a large spiral staircase at its centre leading to cavernous rooms. Ramadan has come and gone, and the bowls of dates and chocolates that mark the three-day festival that follows it sit on tabletops throughout the house. Large manors line the rest of the street; this is well-to-do Jeddah, and while no guard stands watch outside, the Bin Ladens are the neighbourhood's best-known residents.
For years, Ghanem has refused to talk about Osama, as has his wider family – throughout his two-decade reign as al-Qaida leader, a period that saw the strikes on New York and Washington DC, and ended more than nine years later with his death in Pakistan.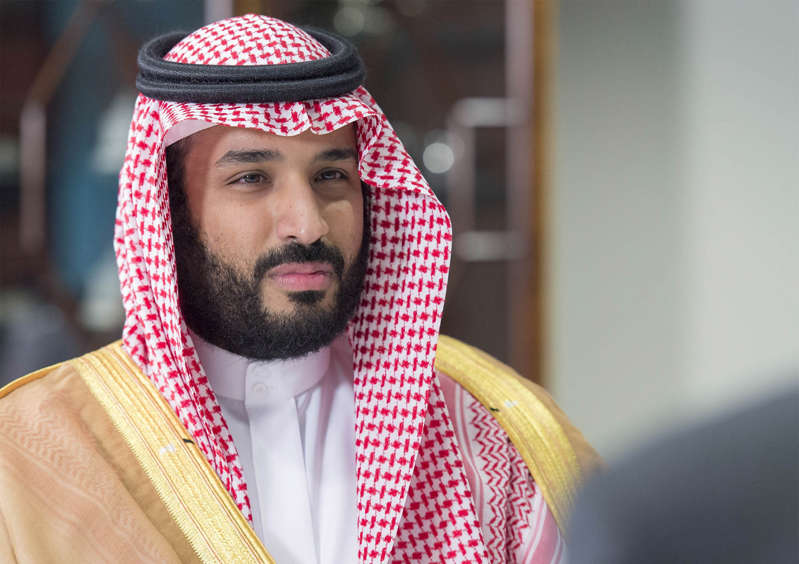 © Getty Saudi Arabian Crown Prince Mohammed bin Salman
Now, Saudi Arabia's new leadership – spearheaded by the ambitious 32-year-old heir to the throne, Crown Prince Mohammed bin Salman – has agreed to my request to speak to the family. (As one of the country's most influential families, their movements and engagements remain closely monitored.) Osama's legacy is as grave a blight on the kingdom as it is on his family, and senior officials believe that, by allowing the Bin Ladens to tell their story, they can demonstrate that an outcast – not an agent – was responsible for 9/11. Saudi Arabia's critics have long alleged that Osama had state support, and the families of a number of 9/11 victims have launched (so far unsuccessful) legal actions against the kingdom. Fifteen of the 19 hijackers came from Saudi Arabia.
Unsurprisingly, Osama bin Laden's family are cautious in our initial negotiations; they are not sure whether opening old wounds will prove cathartic or harmful. But after several days of discussion, they are willing to talk. When we meet on a hot day in early June, a minder from the Saudi government sits in the room, though she makes no attempt to influence the conversation. (We are also joined by a translator.)
Sitting between Osama's half-brothers, Ghanem recalls her firstborn as a shy boy who was academically capable. He became a strong, driven, pious figure in his early 20s, she says, while studying economics at King Abdulaziz University in Jeddah, where he was also radicalised. "The people at university changed him," Ghanem says. "He became a different man." One of the men he met there was Abdullah Azzam, a member of the Muslim Brotherhood who was later exiled from Saudi Arabia and became Osama's spiritual adviser. "He was a very good child until he met some people who pretty much brainwashed him in his early 20s. You can call it a cult. They got money for their cause. I would always tell him to stay away from them, and he would never admit to me what he was doing, because he loved me so much."
© Osama Bin Laden Osama Bin LadenIn the early 1980s, Osama travelled to Afghanistan to fight the Russian occupation. "Everyone who met him in the early days respected him," says Hassan, picking up the story. "At the start, we were very proud of him. Even the Saudi government would treat him in a very noble, respectful way. And then came Osama the mujahid."
A long uncomfortable silence follows, as Hassan struggles to explain the transformation from zealot to global jihadist. "I am very proud of him in the sense that he was my oldest brother," he eventually continues. "He taught me a lot. But I don't think I'm very proud of him as a man. He reached superstardom on a global stage, and it was all for nothing."
Ghanem listens intently, becoming more animated when the conversation returns to Osama's formative years. "He was very straight. Very good at school. He really liked to study. He spent all his money on Afghanistan – he would sneak off under the guise of family business." Did she ever suspect he might become a jihadist? "It never crossed my mind." How did it feel when she realised he had? "We were extremely upset. I did not want any of this to happen. Why would he throw it all away like that?"
© The White House/Getty Images President Barack Obama, Vice President Joe Biden, Secretary of State Hillary Clinton and members of the national security team receive an update on the mission against Osama bin Laden in the Situation Room of the White House May 1, 2011 in Washington, DC.
Obama later announced that the United States had killed Bin Laden in an operation led by U.S. Special Forces at a compound in Abbottabad, Pakistan. The family say they last saw Osama in Afghanistan in 1999, a year in which they visited him twice at his base just outside Kandahar. "It was a place near the airport that they had captured from the Russians," Ghanem says. "He was very happy to receive us. He was showing us around every day we were there. He killed an animal and we had a feast, and he invited everyone."